Pro Pacific DKI uses thermal imaging technology to show what's behind the surface of a wall, based on the differential in temperature between the wall and any water trapped behind.
Finding hidden water using infrared cameras
An infrared camera produces an image in the viewfinder similar to that produced by your typical digital camera with one major difference. The image produced by the digital camera is based on light, while the image from the thermal imaging camera is based on temperature differentials.
Here's a picture of a ceiling taken by a conventional digital camera. Notice that the other image is the same picture taken by a thermal infrared camera.

Going beyond the surface
A photograph of a wet wall taken with a digital camera will show you texture and colour. However, the thermal imaging camera will show what's behind the surface of the wall based on the differential in temperature between the wall and any water trapped behind.
The images can then be downloaded electronically into our job files and/or sent via email to our prospective client, along with a detailed report indicating what the camera has revealed.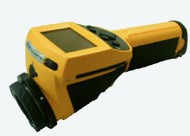 At Pro Pacific DKI, we use the Flir Infrared Camera. This infrared thermography tool is unique in that, with it, you can instantly see and verify water penetration through thermal performance. Of course, anyone can identify obvious water damage. However, it's harder to identify the source of the water.
Why use infrared technology to find water problems?
Quicker recovery
While traditional non-invasive moisture meters can detect areas that have been exposed to moisture, water trapped behind the wall surface but not touching it can go undetected. Thermal Infrared Imaging Technology enables Pro Pacific DKI technicians to accurately trace the path the water has taken – so we don't have to inflict even more damage in order to expose moisture.
This method of inspection enables a household or business to return to its regular routine faster and with minimal inconvenience.
Cost-effective clean-up
The use of Thermal Infrared Imaging Technology will result in faster, more efficient and cost-effective determination of the presence of moisture, its path and the source. This information results in more efficient, less intrusive removal of moisture-affected areas, as well as a more effective deployment of drying equipment.
All these factors result in improved results with lower cost.
Reduced incidence of mould
An additional and extremely important benefit of thermal imaging technology is the reduction of liability due to hidden and undetected moisture trapped in obscure areas. We are very cognizant of the damage and dangers mould can cause if moisture goes undetected.
Thermal Infrared Imaging Technology gives us a vital tool in the elimination of this potentially costly situation, in terms of both health and property damage repairs.
Our Service Territory
Pro Pacific DKI's exclusive service territory is highlighted on the map above. Please click on the office location closest to your property for contact details.
"...how pleased and impressed I was with the professionalism, care and courtesy I received from the Project Manager and the crews. I will make certain that I recommend Pro Pacific DKI to everybody..."