DryAir Controlled Heat Drying System
Our DryAir heat drying system is designed for efficient, cost-effective drying for wet basements, flooded spaces, new construction, bedbug infestations, and more.
The DRYAIR Controlled Heat Drying System consists of a trailer-mounted 600,000-BTU oil-fired furnace linked to portable satellite furnaces using glycol-filled, low-pressure circulating links.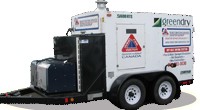 DryAir controlled heat drying is perfect for:
Fire-damaged and water-damaged structures
Wet basements and crawlspaces
New construction
Temporary emergency heat and power generation
Bedbug infestations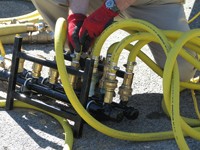 The controlled heat drying process
The satellite furnaces are placed within the affected areas of the structure. The heated glycol is circulated throughout the system, greatly increasing the ambient air temperature.
The heated air is now capable of holding much higher levels of moisture, effectively drawing the moisture out of all wet materials. Using air movers, Pro Pacific DKI vents the hot, moisture-laden air outside.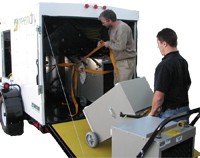 DryAir system advantages
Greatly reduced strip-out and debris removal costs
Less impact on landfills
Faster and more efficient dry-down process
Significantly lower reconstruction costs
Less downtime and quicker re-occupation of affected areas
Totally self-contained heat delivery system and electrical power generation
Our Service Territory
Pro Pacific DKI's exclusive service territory is highlighted on the map above. Please click on the office location closest to your property for contact details.
"Your rapid response caught potential problems before they had a chance to multiply. Thank goodness that my condo insurance carriers had the brains to choose the best Restoration Company in Victoria!"