We're trained to remove all unwanted water and moisture from your residential or commercial property, whether a blown water heater has dumped water throughout your hallways, or a flash rainstorm has overwhelmed your perimeter drains.
Don't let water damage go unchecked – contact the experts at ProPacific to help get your home or business back on high ground.
If the flood gates open, we'll be there to take you to dry land.
877-755-9966
Phone or contact ProPacific today.
Restoration Service Area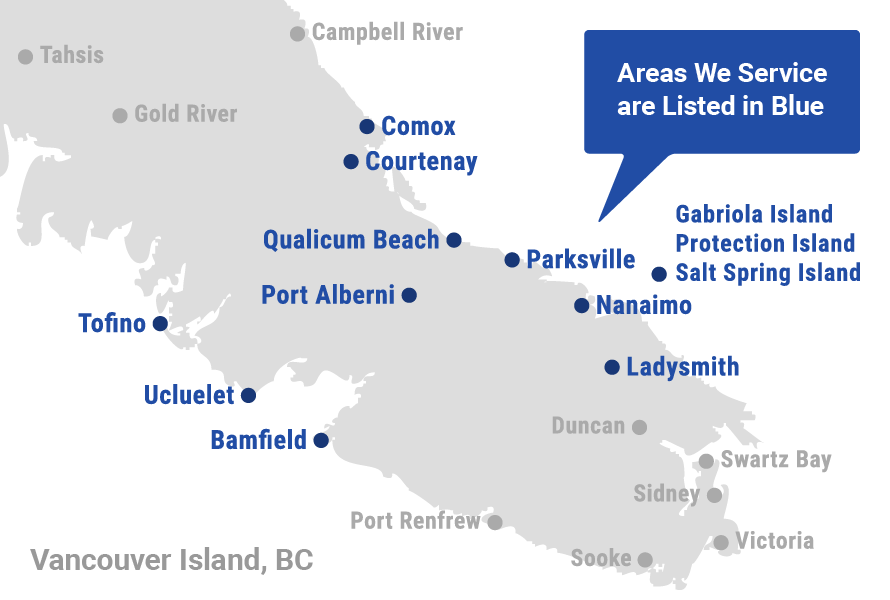 Bamfield
Comox
Courtenay
Gabriola Island
Ladysmith
Nanaimo
Nanoose Bay
Parksville
Port Alberni
Protection Island
Qualicum Beach
Salt Spring Island
Tofino
Ucluelet
Proud Members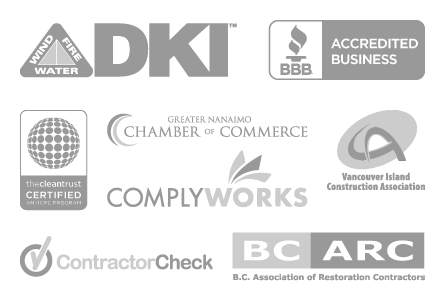 OUR PROCESS
NOTE Depending on your situation, the following steps may be done in a different order (or not at all).
Connect After you have contacted ProPacific's Restoration crew (you can call our toll-free number at

(877) 755-9966

), we'll connect with you to gather information over the phone and make arrangements to get to your site ASAP.
Assess

Our trained staff arrive to your site to assess the needs of your specific flood or water damage situation. This stage may include taking samples of various building materials to test for hazardous materials, such as asbestos. Once we've assessed the situation, we'll place priorities on each of the steps and begin to develop a plan to restore your property.

Scope

From the start, you will have a Project Manager assigned to your project for its entire duration. Once your site has been assessed, your Project Manager will prepare a detailed scope that outlines the services you require.

Authorize

Before we can begin work on your site, we need to make sure you have given us authority to do so. We'll accomplish this by having you sign an authorization form that provides us legal access to your property.

Extract & Evaporate

Any standing water still present will first be quickly extracted in preparation to remove all moisture from the area. Once the bulk of the water is gone, we bring in air movers and dehumidifiers to extract the remaining moisture from both the air and the surroundings.

Restore

After the cause of the flooding has been dealt with and all water and moisture is removed from the scene, we begin the process of restoring, rebuilding, and replacing damaged, destroyed or lost property. And since our staff are also trained in Mold Remediation, we'll be able to help should a mold problem arise.
STEPS TO TAKE
NOTE These steps are provided as guidelines only, and may not apply to every scenario. Safety is always the #1 priority.
1

Call

Start by contacting a professional to gauge the damage and assess your situation. Call ProPacific at (877) 755-9966 – our phone lines are open 24 hours a day.
2

Avoid

Electricity and water do not mix, and even unplugging a cord can be very dangerous. Wait for our team to arrive before using electricity, including vacuums, lights, and kitchen appliances.
3

Turn Off

If you know where your water supply shut-off valve is located (and it is safe to access), turn it off to prevent further water damage.
4

Move

Where it is safe to do so, remove any dry and light contents to a safe, moisture-free space (away from the flooded areas).
5

Leave It!

If mold appears due to the excess water, don't disturb it! Although you might think you can remove visible mold by scrubbing, you're likely to simply spread the mold around. Don't attempt to take care of this issue yourself.
ADDITIONAL INFORMATION